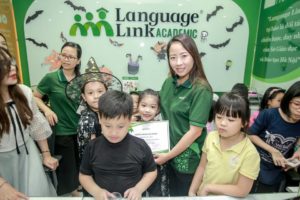 BACKGROUND AND JOB SUMMARY
Vietnam's National Curriculum Teachers at Language Link (VNC Teachers)
About the VNC Programs  
VNC teachers are in charge of the following programs at Language Link Academic: TE, New YL, and New AE. 
The

TE

Program is designed specifically for good and very good

teens

, who wish to participate in English contests at different levels, obtain international English certificates or study in English-focused classes or schools for gifted students.

This is an

Integrated

Program (combination of Vietnamese and Foreign teachers) which aims to:
– develop students' knowledge in English grammar, vocabulary and pronunciation;
– develop students' listening, reading, speaking and writing skills in a wide range of contexts for social to more academic situations.
– familiarize students with different types of test questions, test format and test taking strategies for local tests to enter gifted/ elite schools; develop students' various study skills, critical thinking, organizational and analytical thinking skills.
The New

YL

curriculum for

primary school students

is designed to accommodate the students' age and developmental stage.

The program helps students to…
develop communication in English; 

develop international test skills;

 

develop literacy skills, esp. reading; and

develop grammar knowledge to deal with communicative demands and local tests.

be familiar with grammar rules which help them avoid fossilized errors at later stages of learning and using English.

develop fundamental self-study skills (using a dictionary, learning new words, learning grammar).
New Academic English (AE) Program

aims at 15-18 years old students, students enrolled in Senior High School or older who plan to study overseas, or take the /IELTS tests and students toward the end of grade 9.
The objectives of the programs is to
– Help students develop English competence (language and skills) to deal with local English tests, especially the graduation and university entrance exam; and
– Helps students prepare for their academic English study at universities, including international English exams and study skills (writing, presentation/ debates, note taking) at higher education.
– Help students to develop an understanding of cross cultural communication to overcome difficulties in international institutes or programs and life abroad.
Responsibilities 
Teaching and class management 
Develop lesson plans and further materials

Provide teaching of the VNC program(s) at certain time at LLV when required 

Be a covering teacher if required 

Expected teaching hours per month: 18

Provide assessment and reports on student performance throughout the course 
Work with the local Senior Teacher/Academic Coordinator and customer service team to address students' behavioral, academic, and other related problems

Any other tasks relating to the students you are teaching, if required 
Program Development and Improvement
Provide feedback to the local Senior Teacher about the materials, syllabi, pacing guides, etc.

Join and present at professional development workshops when required

Any other academic tasks if required 
Requirements and qualifications
Bachelor's or Master's degree with English as Major

Strong expertise and experience in teaching primary, secondary or/and high school students

is favourable

Ability to work under pressure and meet deadlines 
Benefits
Teaching rate: 200.000 – 330.000 VND

Scholarship: 50% discount for one English course at LLV for collaborator's children for every 150 teaching hours and 50% Celta course fee upon satisfactory assessment requirements.

Bonus: 6.000.000 VND at the end of a one-year contract (applied for at least 150 teaching hours per one-year contract without any warning)

Attend regular training workshops/courses for continuing professional development