Vietnam is a great place for teachers who want to teach English abroad. With dynamic, colorful cities, mixing the beauty of history and modernity, Vietnam has become a place that attracts a large number of foreigners to teach English. It will be quite competitive when you want to teach English in Vietnam. However, requirements to teach abroad in Vietnam are lenient. Please find the following article to better understand why you should teach English in Vietnam.
Vietnam is on the list of potential countries to teach English
Vietnam is ranked quite high in the list of potential countries to teach English. Vietnam's economy is growing day by day, many multinational companies have formed, creating thousands of jobs for people here.
On the path of international integration, Vietnam has always focused on investing in the development of young people by encouraging them to learn foreign languages well. In order to support people to learn foreign languages, Vietnam creates a lot of opportunities and is always open to teachers who want to teach English here. It's hard to argue against Vietnam being the premier destination for teaching English abroad
Vietnam has many great opportunities to teach English
Many young people in Vietnam are focusing on improving foreign languages to find themselves many good job opportunities in the future. Many schools have become short of native English teachers. That's the reason why you can find many impressive opportunities to teach English in Vietnam. For example, teaching English at English centers, international schools, tutors, universities, preschools or teaching online 1-1.
As long as you have a TEFL certificate and good English skills, you can become an English teacher in Vietnam. If you want to teach English in Vietnam with a high income, and be appreciated by students or parents, don't forget to equip yourself with the best teaching skills, always create many interesting activities when teaching English and putting my heart into this work.
The cost of living in Vietnam is very low
Teacher salaries in Vietnam are quite high, but the cost of living is quite low. This is one of the good conditions that makes it easy to save money and improve your quality of life.
You can easily find a beautiful apartment with very low rental cost. You can see a lot of eateries around. Delicious and quality food but very cheap. The main means of transportation in Vietnam is motorbikes. You can rent or buy it. Trust me! You will definitely feel very comfortable when living and working in Vietnam.
Vietnam has many tourist attractions for you
It is not surprising to say that Vietnam has many famous scenic spots around the world. If you are an English teacher who is passionate about travel experiences, Vietnam is an ideal destination for you. What is more wonderful than after a tiring working time, you plan a trip to immerse yourself in nature, admire the surrounding scenery to refresh yourself.
Vietnam has colorful cities. An ancient Hanoi with modern beauty mixed with the past. A bustling Saigon, known as the city that never sleeps. A quiet Hoi An, bringing in a historical beauty. Or a Danang, Nha Trang with beautiful coastal roads.
If you want to explore the majestic beauty of the mountains and forests, you cannot ignore the Northwest of Vietnam such as Ha Giang, Sa Pa,… If you want to conquer magnificent caves, recognized by UNESCO as a world cultural heritage, you must definitely visit Son Dong, Ninh Binh or Ha Long Bay, …
Vietnam is also very close to countries like China, Laos, Cambodia, Thailand or Singapore,… you can easily move through these countries to travel.
You see, Vietnam has no shortage of landscapes for you to explore.
Enjoy unique food and excellent coffee while teaching English in Vietnam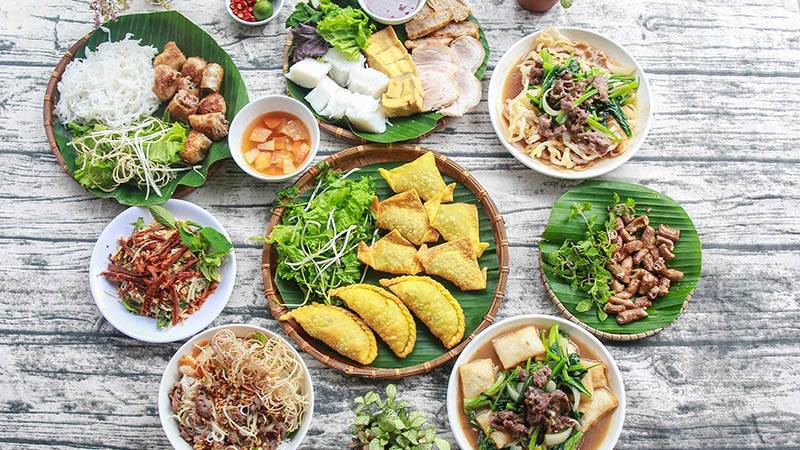 Vietnam is an eater's heaven. That's right. With a variety of dishes not only from Vietnam but also from around the world, you are free to enjoy your favorite foods.
Famous Vietnamese dishes you must try once in your life such as Pho, Bun Cha, Banh Xeo, Banh Mi, spring rolls, … There are many restaurants, sidewalk shops around schools or English centers. This gives you a lot of dining experience after teaching English in Vietnam.
If you want to eat food with the taste of your country, don't worry. There are many European, American, French, Chinese or Thai restaurants for you to enjoy.
In addition, coffee is a drink you must try when you come to Vietnam. Vietnamese coffee has a rich, distinctive flavor that will always be remembered when you drink it. It is understandable that Vietnamese coffee is among the most popular in the world. When you come to Vietnam to teach English, be careful, you might get addicted to the food and coffee here.
The climate in Vietnam is suitable for everyone
The special thing that attracts tourists or commuters to Vietnam is that it has a rather mild climate. If you are tired of the cold climate all year round in your country, come and teach English in Vietnam.
In southern areas like Ho Chi Minh City, it is always sunny all year round. The temperature is rarely below 20 degrees Celsius. Sometimes, if you want to enjoy the cold air, drink a cup of coffee and watch a favorite movie, Hanoi can give you that feeling. Hanoi has 4 distinct seasons. Summers are usually hot and winters are quite cold.
However, in general, the weather in Vietnam is quite pleasant all year round, the temperature is always at a normal level. That is the reason why Vietnam is an ideal place for foreigners to live and work
Teaching English in Vietnam gives you the opportunity to participate in many meaningful activities
For Vietnamese young people, learning English opens up opportunities for them to be educated, find good work opportunities and improve the quality of life for them and their families in the future. When you come to Vietnam to teach English, you helped them change their lives by imparting knowledge and positive energy to them. This is a very valuable job.
Not only that, the volunteers in Vietnam also organize many charity activities. Including donating books and clothes for children in upland areas, building houses of love for the elderly, playing with orphaned children, cooking porridge for the homeless. Especially teaching activities for children in disadvantaged areas. Therefore, if you want to participate in these meaningful activities, come to Vietnam
Vietnam has a very diverse culture
Vietnam has a rich and diverse culture. It not only shows the uniqueness of ethnic groups in particular, but also maintains the unique characteristics of Vietnamese culture in general.
When you come and teach English in Vietnam, you will easily see the image of girls with beautiful long dresses and conical hats. All of them show the gentleness and grace of a girl. This is a beauty preserved in history.
More specifically, each region will have different festivals. You will have the opportunity to participate in fun festival activities such as boat racing on water, buffalo fighting festival, Cai Luong singing, etc.
you will discover and learn a lot about the culture of Vietnam. After working here for a long time, maybe you can become a professional tour guide.
Vietnamese people are very friendly and hospitable
Vietnamese people are famous for being friendly and hospitable. You can see their simple, welcoming smiles when you come to Vietnam. They are small people but always ready to help when you are in trouble, not racist and very respectful of people from other countries. They are also willing to let you stay or invite you to eat delicious Vietnamese food, introduce you to more about this country.
Vietnamese people live very emotional lives. Especially, when you are an English teacher in Vietnam, you will see that the children are very loving, obedient and respectful of their teachers. In Vietnam, there is also a holiday on November 20, also known as Vietnamese Teachers' Day. The day when children will show their gratitude to their teachers and give teacher the most meaningful gifts.
This is a place where you can easily make friends. This helps you not to feel lonely and empty when in Vietnam.
The above article has given 9 very useful reasons to teach English in Vietnam. Hopefully, these reasons are convincing enough for you to choose Vietnam as your destination to teach English.
See more
7 of the Best English Teaching Jobs in Vietnam
Tips for Finding an English Teaching Job Abroad
English teaching in Vietnam – Difficulties that most foreign teachers have to face