English is the most commonly used language in society today because it opens up a lot of development opportunities for learners. Recognizing the important role of this language, English teaching in Vietnam is increasingly promoted. However, for foreign teachers, teaching English to Vietnamese people often encounters certain difficulties. Let's take a look at some of the obstacles they often face in this article.
Deciding to choose English teaching in Vietnam, you are ready to face some difficulties in living and working here.
Difficulties with the ability and habits of Vietnamese people to learn English
English is a language that is not often used to communicate in the daily life of Vietnamese people. Therefore, the process of learning English for Vietnamese people needs a long time as well as regular contact to build a foundation and develop communication skills.
In particular, Vietnamese people are often self-deprecating and timid when learning English, especially with active skills such as Listening or Speaking. Current English learning programs also often focus more on grammar and Reading – Writing skills. This leads to the result that Vietnamese students can master the knowledge in books but cannot use English in real life.
In addition, Vietnamese people often make harmful misunderstandings when learning English: focusing on the number of newly learned words instead of applying these words in practice, just learning English in school is enough, etc. These are also the problems that foreign teachers will encounter and have the responsibility to change when teaching English to Vietnamese students.
Difficulties with integrating into a new culture
When moving to a new country, culture shock is a common manifestation. Depending on each individual and environment, this process can be very short or sometimes lengthy, creating difficulties in integrating into a new culture.
Vietnam has a long traditional culture with outstanding and typical customs and practices of a country in the East. Many conceptions of life, people, love, happiness, and clothes of Vietnamese people are sometimes a bit traditional and not as liberal and open-minded as people in many Western countries.
English teaching in Vietnam – some social security problems you have to face with
Environmental pollution is a concern when living and working in Vietnam. Vietnam is a modernized industrialized economy. In big cities, the urbanization rate is too fast, leading to severe destruction of the environment. Garbage is everywhere in the sea, streets, rivers, and lakes. Industrial smoke and domestic wastewater have not been treated well. Moreover, people's awareness of environmental protection is still low. Therefore this is an obstacle for foreigners when coming to Vietnam.
In addition, traffic has also been a problem for the people and government of Vietnam. Participating in traffic is an obsession not only of many foreigners but also of Vietnamese people. Traffic is often congested, especially during rush hours. People's awareness of participating in traffic is still poor when they are ready to cross the red light or cross the lane.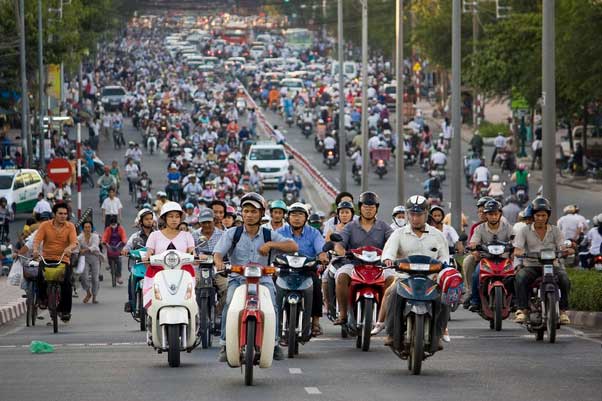 Traffic in Vietnam is an obsession for many foreigners
Choosing jobs related to English teaching in Vietnam, you should consider both the benefits and disadvantages of living here. Hopefully, with the above article, you can prepare thoroughly before starting a new job in a new country like Vietnam.