Before starting your career in English teaching in Vietnam, what you should be aware of are the important requirements for an English teaching position in this country. To help you save time in the searching process, the following article will mention some important criteria that most schools and language centers require for a foreign English teacher in Vietnam.
Vietnam has a huge demand for English teachers in
Professional requirements for English teaching positions in Vietnam
To teach English in Vietnam at all levels, you need a minimum of a bachelor's degree related to English language teaching. In addition, for international schools or university/college level, teachers must possess a master's degree in English language teaching.
Moreover, TESOL, CELTA, TEFL are international teaching certificates and are fully valid in Vietnam. When possessing these certificates, the candidate's chances of finding a job are up to 70-80%. Nearly all international schools or centers will ask for an international teaching certificate during their interviews.
CELTA (Certificate in English Language Teaching to Adults): The CELTA certificate demonstrates the ability to teach English to adults. CELTA is officially recognized by UK Government examination bodies at Level 5 of the National Qualifications Framework (NQF) for England, Wales, and Northern Ireland.

TESOL (Teaching English to Speakers of Other Languages): The Tesol Certificate is an international certificate of English language teaching skills. Upon achieving this certificate, you will be recognized as having professional pedagogical skills. TESOL is recognized in more than 1,000 schools and more than 80 countries around the world.
In particular, the standard voice and the ability to convey knowledge are important factors to determine the capacity of a teacher, thereby deciding the appropriate salary for that teacher. In Vietnam, native speakers are very popular because they pronounce them well and correctly. However, if you are not a native but have a good voice, the centers are still willing to recruit.
Teaching experience is also an important factor for English teaching jobs
Not only English teaching jobs but any profession also requires experience. It will be an advantage if foreign candidates have taught classes or have had the opportunity to impart knowledge to others. If candidates have no experience, employers will have to re-train, which will cost a lot of their money and time. Therefore, candidates with previous teaching experience will stand out from many other candidates in the assessment of employers.
Native teachers also need to understand and integrate with Vietnamese culture and lifestyle
Before coming to Vietnam, you should learn about the culture and lifestyle of the people here. This helps you easily integrate into the working and living environment, without having too many difficulties and surprises when living in a new country or a new culture. Understanding the culture of Vietnam also helps foreign teachers have a great life experience, bringing back happy memories or memories.
In addition, you should also consider a suitable area or city to work in. All regions in Vietnam have different cultures, customs, and lifestyles.
Moreover, big cities often have more job opportunities and a higher standard of living. However, the large population and more common social evils in these regions are also something you should consider.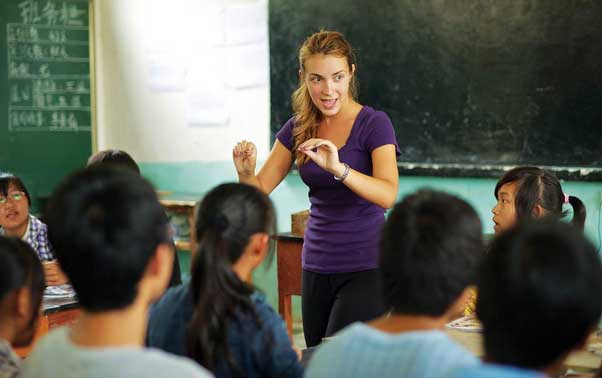 Foreign teachers will gain memorable experiences in Vietnam if they can understand and integrate into Vietnam's culture
The above article has mentioned some important requirements for foreigners when applying for English teaching jobs in Vietnam. Hopefully, with this information, you can choose the right teaching jobs and enjoy your life in this country.