Who teaches English better – native teachers or Vietnamese teachers? This is the question most Vietnamese people have when they want to learn English. To answer this question, the following article will point out the advantages of learning English with native teachers as well as the benefits obtained when studying with Vietnamese teachers.
Foreigners or Vietnamese teachers – who better to teach English in Vietnam?
Advantages of learning English with native teachers
Native English teachers are people who were born and raised in countries where English is their mother tongue such as the UK, USA, Australia, Canada (English speaking region), and have pedagogical skills and qualifications. They have superior advantages in terms of:
Vast English knowledge: This is the biggest advantage of native English teachers when teaching English because they are the ones who understand their mother tongue better than anyone else. To really master a language requires attempts in  a long period of time. Therefore, learning English with native speakers will help you somewhat feel this language more easily and quickly.

Standard pronunciations and intonation: When learning any language, it is very important to feel how it sounds. Knowing how to create sounds, and capturing tones, has conquered 80% of that language. Learning English with a native speaker will help you "feel" easier than a Vietnamese teacher. The main reason is that, after all, teachers in Vietnam or any other country where English is not the mother tongue are all imitating how native speakers pronounce.
Therefore, if you want to learn pronunciation, listening, speaking, communication skills, studying with native teachers will be the right choice.
Vietnamese teachers – who are more suitable in teaching English in terms of grammar and exam preparation
Compared with native teachers, the strength of Vietnamese teachers may not be phonetics and intonation. However, Vietnamese teachers are good at grammar. Therefore, Vietnamese teachers are suitable to teach:
English Grammar: Vietnamese teachers often study English grammar very carefully. Sometimes their grammar is even better than that of native speakers. Therefore, if students want to improve their grammar to use English correctly, learning English with Vietnamese teachers can be very effective.

Preparation for English certifications: More than anyone else, Vietnamese teachers are the ones who understand the most common mistakes Vietnamese people make when learning English thanks to their rich experience in their learning. Therefore, they will orient a much more streamlined and effective exam preparation route for students.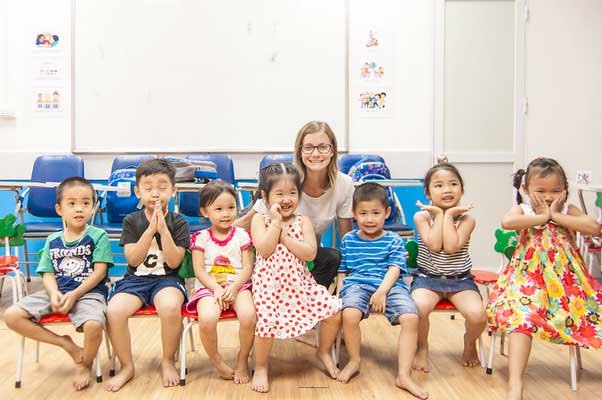 Vietnamese teachers often research English grammar very carefully
It can be seen that learning English with native or Vietnamese teachers has its benefits. Depending on learning goals, students can consider the most suitable option for themselves. At the same time, teachers, especially foreign teachers can also refer to this article to improve their weaknesses in the process of teaching English to bring the best results for students.