Vietnam is one of the countries with high demand for native English teachers. In big cities like Hanoi or Ho Chi Minh City, finding job opportunities related to English teaching is not difficult. Ho Chi Minh City City – one of the largest cities in Vietnam with a crowded population, developed economy and society, and big foreign investment capital is currently an attractive area for foreigners to live and work. In this article, Language Link Academic will share some teaching jobs in Ho Chi Minh City that you can reference.
Teaching jobs in Ho Chi Minh City are always open to foreigners
Teaching English to preschool or kindergarten children
Letting children learn English at an early age has become a trend these days. Many studies have shown huge benefits when children can access English in their beginning stages. The brain of young children, especially those from one to five years old, is like a sponge that can absorb information around it very quickly.
According to statistics, from 2019 to 2020, Ho Chi Minh City has 1,346 preschools, of which there are about 467 public schools, and the rest are non-public schools. Preschools in the city are also gradually bringing English into learning and playing activities for children. Therefore, the need to recruit teachers, especially foreign teachers, is also increasing day by day.
Teaching jobs in Ho Chi Minh City related to English certificates programs
Many Vietnamese people nowadays tend to seek study or work abroad. This increases the need to pursue international English certificates such as IELTS, TOEIC or TOEIC because they are one of the prerequisites in the process of applying to foreign countries.
Therefore, the demand for teachers to teach English certificates is constantly increasing. In Ho Chi Minh City, the number of foreign language centers has reached nearly 700, of which most centers offer certificate preparation courses. You can completely search for job opportunities at these centers.
However, these positions all have strict requirements on the qualifications of teachers. Teachers need to have an IELTS or TOEFL certificate with a high score or have completed a TESOL or ESL program.
Intensively teaching English communication skills to Vietnamese people
Business activities are currently not encapsulated on the domestic scale but corporate with many companies in different countries. English seems to be the most popular and preferred intermediate language when more than half of the countries in the world are using it. Major partners of Vietnam's companies are mainly from countries such as the US, China, Russia, the UK, and Germany, most of which use English as the main communication language.
Meanwhile, in 2020, foreign direct investment (FDI) capital into Ho Chi Minh City accounts for the highest proportion of the total FDI in Vietnam with $4.4 billion. The increase in the number of foreign projects leads to the same demand for positions requiring fluent English communication. Therefore, in Ho Chi Minh city, English communication teaching jobs are always recruited continuously with attractive salaries.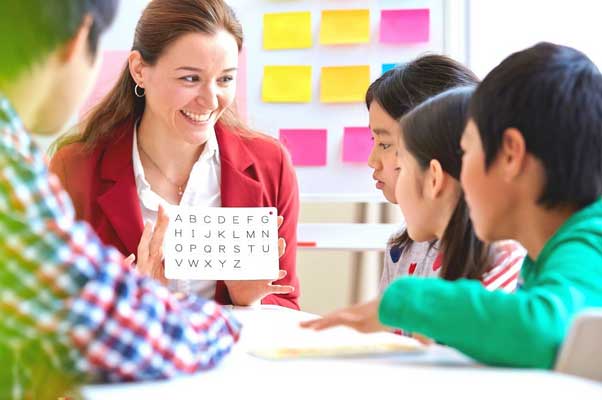 English seems to be the most popular and preferred intermediate language
The above article has shared some types of jobs related to teaching English for foreign teachers. Teaching jobs in Ho Chi Minh City are significantly diverse along with attractive salaries and benefits for native speakers.