Are you planning to develop your career as an English teacher in Vietnam? Are you wondering what the people here are like? Can you overcome the cultural barrier to blend in with them? Don't worry. In this article, Language Link will help you understand all about of Vietnamese people. What influenced them? This helps you better understand and make better decisions if you want to choose Vietnam as the ideal place to teach English or live.
I. What are Vietnamese people like?
If you are intending to choose Vietnam as a place to develop your career or live. Then congratulations. You made the right decision. To be a good, well-liked English teacher, you need to be more friendly with your students. You also need to understand the personality and ability of the student.
This is also what worries foreign teachers who come to Vietnam to teach. Fears that they will not be able to blend in with Vietnamese people here. Are they difficult and alienating foreigners? How will you develop your career if you are not recognized and respected by everyone? All those negative thoughts will disappear immediately if you know what Vietnamese people are like.
1. Vietnamese people are very friendly
If you have friends or relatives who have traveled or lived in Vietnam, ask them what kind of people Vietnamese people are. You will get an instant answer that they are extremely friendly people. The friendliness of Vietnamese people is famous around the world. Not only newspapers, television, travel sites but even travelers, you will notice that they all comment that Vietnamese people are very approachable and happy with international tourists.
You will be surprised to know that there are Vietnamese families who invite foreigners to eat and drink with their families, even if they do not know each other. There are foreign tourists who are also invited to attend the wedding and have fun with their families. They also enthusiastically introduce the culture and famous dishes of Vietnam and invite friends from other countries to enjoy.
No matter you go to the provinces spread across Vietnam. Whoever you are, wherever you come from. You will be greeted by a very friendly smile. Vietnamese people do not discriminate by race, country or gender. They welcome everyone.
2. They are very kind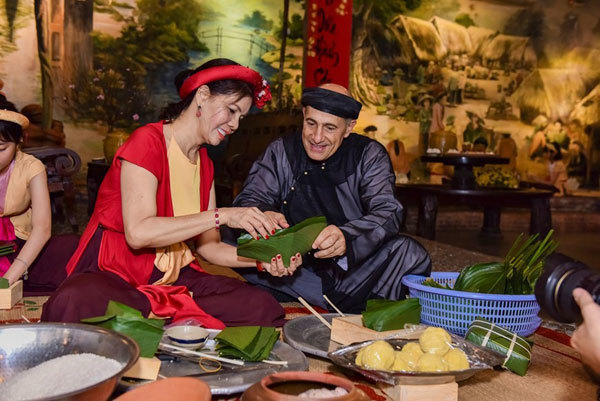 They are enthusiastic people, always helping people when they have difficulties or obstacles. You can see the widely circulated images from the backpacker community. When their motorbike or bicycle breaks down or has problems in the middle of the road. There will be Vietnamese people coming to fix it. They even fix it for free and no charge. No matter what their job is. Helping others is the only right thing to do.
If you study hard, you will realize that the kindness of Vietnamese people is much more than that. If you have not found a place to eat, a place to sleep. You just need to have the courage to enter a Vietnamese person's house and seek their help with the most sincere attitude. You'll get more than expected with a delicious meal filled with specialties and a tidy sleeping area.
Maybe you don't know. There was a time when there were many foreign tourists holding placards and begging Vietnamese people for money in the middle of the road. Regardless of whether that's true or not. But Vietnamese people still come to ask questions and contribute money to them.
Or when you want to do business, make money by selling food or teaching, … Vietnamese people will enthusiastically support you. The most typical example is during the recent Covid epidemic. When foreigners were unable to return home or lost their jobs, the Vietnamese did not abandon them. Always create another job opportunity for them or share with them each meal, accommodation, …
3. Honest and polite
Come to Vietnam, meet and experience. You will understand more things about Vietnamese people.
They treat everyone honestly. When you visit a Vietnamese family you know, you will easily find that they are very welcoming. Their family has any delicious food or regional specialties, they will bring it all out to treat you.
Vietnamese people have a habit of being polite to others, especially people from other countries. They never let you suffer. If you give them 1 you will get 10 back from them That is the beauty of Vietnamese culture.
In Vietnam, you can also see that Vietnamese people respect their culture and long tradition. They are ready to introduce you to the ancient beauty of the country for hours without getting tired. So, don't be shy if you have a need to learn more about Vietnam. Feel free to ask Vietnamese people.
II. What makes Vietnamese people like that?
Surely you also know that Vietnam is currently a developing country. Vietnam came up from poverty, there were losses and sufferings after the war. Because Vietnamese people used to suffer poverty, hunger and coldness. So they understand that living in the world must know how to love and help others. They always want to help people have a better life. They do not care what country you are from. Always warmly welcome you like family.
Currently, Vietnam is following the trend of international integration. Young people are encouraged to practice foreign languages, especially English, so that they can have access to new knowledge in the world, helping the country develop more.
That makes most Vietnamese, especially young people, always have the need to make friends with foreigners more to be able to practice English and learn about culture.
Because Vietnamese people have experienced difficult and deprived situations, they always understand and love people around them. And always want them to have a better life. No matter what country you come from.
You see, Vietnamese people are very cute, aren't they? Don't worry when you read bad news about Vietnamese people but quickly judge all Vietnamese people equally. Come to Vietnam, meet and experience. You will understand more things about Vietnamese people. Not only that, they also pack gifts for you to bring back to your family.
See more:
Why You Should Find English Teaching Job in Vietnam?
How Much Do English Teachers Make in Vietnam?